Our First Grand Champion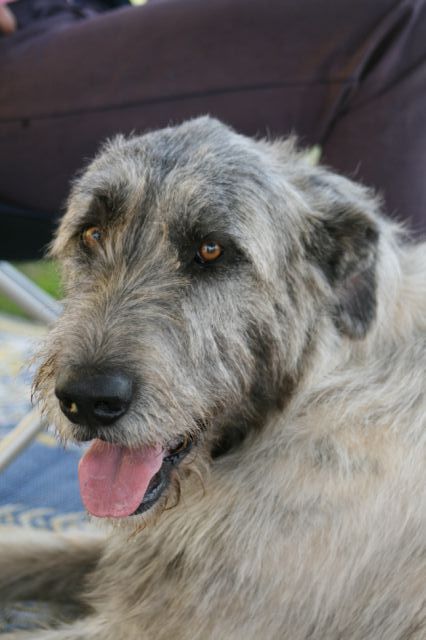 Aust Grand Champion Ornumflow Hagan
"Dudley" obtained his Grand Champion Title in August 2011 to be what we believe is the youngest ever IW living on the Mainland to obtain a Grand Champion title.
After winning Irish Wolfhound Rising star and Irish Wolfhound All Breeds of the Year Gr Ch Ornumflow Hagan (Dudley) did not disappoint us. He proved to be "noticed" by many judges being a well muscled dog who performs beautifully in the ring - a demonstration of his conformation, movement and outstanding temperament. As he moved into the Intermediate class he had already achieved two Best in Show wins, a Runner Up Best in Show, multiple Best in Group and Runner up Best in Group wins and countless classes in group.
We are also very proud of Dudley winning Best Up and Coming for 2009 in the IW Club Pointscore. He also took out the Pines Trophy (back to Back) for Best of Type under 2 years at our Irish Wolfhound Club Specialty show. Dudley also won the IWCLUB Special Pointscore for 2010. At Ornumflow we were very proud to have Tara campaign him so well and especially of achieving his Grand Champion Championship title.
Dudley's most notable wins were: Best In Show at Peak Hill All Breeds Kennel Club 25th August 2010, Best In Show at Cootamundra All Breeds Kennel Club 9th May 2010 and Runner up to Best in Show at Cootamundra All Breeds Kennel Club 8th May 2010.
We thank the many judges who took the time to notice this majestic young hound awarding his soundness, typical Ornumflow temperament and classic conformation appropriately.
Click on below link
Grand Ch Ornumflow Hagan
"Dudley"
View More Details